Driver Like distance from the Radical SPOON (R3)
注重远飞的激进3号木(R3)
A super titanium spoon (3W) that provides both max distance and stability. Long like a driver but with even more control.
半自动且比DRIVER更具操作性并追求远飞,开球也能发挥其威力的超钛金属3号木。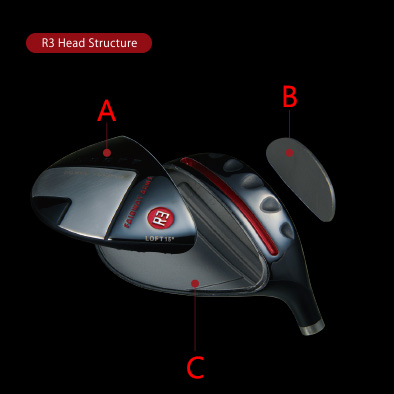 A.
Tungsten allow sole helps produce a powerful launch with low spin
B.
Super ball speeds from a high repulsion Titanium face
C.
Titanium body allows for optimal CG placement. Gravity for maximum distance
4 wood with more distance, more forgiveness
The distance of a 3W and the control of a 5W. The optimal balance between stability and distance. Semi-auto 4W.
重视操作性与远飞的平衡,如远飞易打的三号木般的四号木。重视易打性的同时也具备半自动的操作性
D.
17-4 Stainless body contributes to the optimal CG for distance.
E.
HI-Maraging CH1 thin crown produces high launch and optimal spin.
带来高击球,最适后旋最大飞行距离的高麻钢CH1薄肉冠部
F.
Maximum ball speeds thanks to more spring effect from a Hi- Maraging CH1 face.
Aim for the pin with the 5W and 7W
瞄准球洞的5号木与7号木
The 5W and 7W focus on control and accuracy by creating consistent and predictable distance. Easy to launch with optimal spin to attack the green.
抑制飞行距离的偏差,稳定的后旋量容易用将球带​​起,重视操作性与方向性的W5与W7
G.
A 17-4 Stainless body with the center of gravity that produces the optimal balance between
产生最大飞行距离与操作性的设计的17-4不锈钢本体
H.
Increased ball speeds from Hi-Maraging Plus variable thickness face.
Gravity control by club = Optimal performance
I.
Weight is further back thanks to a thicker back sole creating an easier launch with more distance.
J.
A thicker toe and heel atea on the sole create a more stable head that resists twisting for more accuracy.
Ball speeds up with our Wide Hyper Effect Face
Our face structure evolves to improve spring effect and produce even more distance.


ONOFF CLUBS LINEUP