史上最自动且易打的球杆使球远飞的 AKA

以「自动且易打的球杆使球远飞」的理念,贯彻「远飞」·「易打」·「美观」的设计·开发出来的「ONOFF AKA 红头」系列。
AKA专用的新POWER TRENCH使球的初速提升进而增加飞行距离;
减少打点偏移造成的飞行距离损失使飞行距离性能提升的DRIVER、FAIRWAY WOOD、UTILITY 。
利用让球远飞的新构造「双沟槽」实现易摆头的远飞系AKA红头铁杆。
我们对易打性的坚持,由ONOFF独家的GRAVITY CONTROL(最适重心设计),实现抓球、自动击出高弹道的左曲球。
从能让球友们尽情享受高尔夫的机能,到简约且有质感的设计。是最适合想用全自动易打球杆使球远飞的球友的系列。
ONOFF DRIVER AKA
New trajectory control system brings AKA automatic to a new level!
ONOFF TRAJECTORY CONTROL SYSTEM (OCTS):
Adjusting the weight screw changes
the draw trajectory based on the needs
of each player. Optimize the trajectory
for increased distance.
By Changing the weight screws (optional) the swing weight and amount of draw can be changed.
1. Fine tune the swing weight to adjust feel and improve distance.
2. Control the draw trajectory by shifting the center of gravity from the heel.
The standard weight included with the club is 7g. Additional weight are available at an extra change.
*Please ensure to refer to the manual to property use OCTS.
OCTS Sleeve alows for loft and lie angle adjustments to achieve optimal ball flight.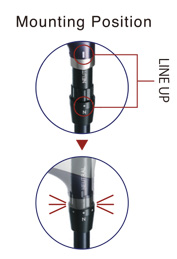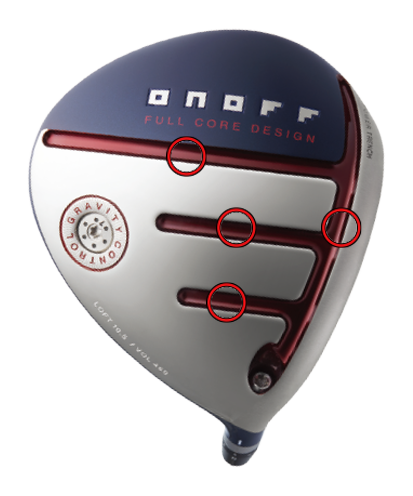 Improved POWER TRENCH
In additional terench along the face we're added 3 additional trenches going from front to back which help increase the sole rigidity.
This helps increase the spring effect of the face for higher ball sppeds and for more distance.
More Distance and forgiveness thanks to new POWER TRENCH and face.
Increased sweet spot and more ball speeds thanks to more efficient flex and recovery on the face. An all powerTrench optimized for the AKA Driver reduces lost on miss hits. hit it straighter and longer.
****The face and body use an all new light weight HST140C Titanium which pushes spring effect right to the limits.
The most distance and ease of use ever.
Gravity Control = Optimal Center of Gravity
By using a light weight carbon crown. we can redistribute weight lower and deeper in the head as well as use a replaceable screw. The deeper center of gravity results in an easy high launch and the bigger gravity angle helps players square the face to the ball.

ONOFF CLUBS LINEUP